Unlock ROI at every stage of the journey
Logixboard offers everything you need to drive delightful customer experiences and increase sales.
Real-time visibility
on demand
Give your customers real-time shipment tracking, invoicing, analytics and more in a modern, user friendly interface that integrates quickly and seamlessly with your current logistics software.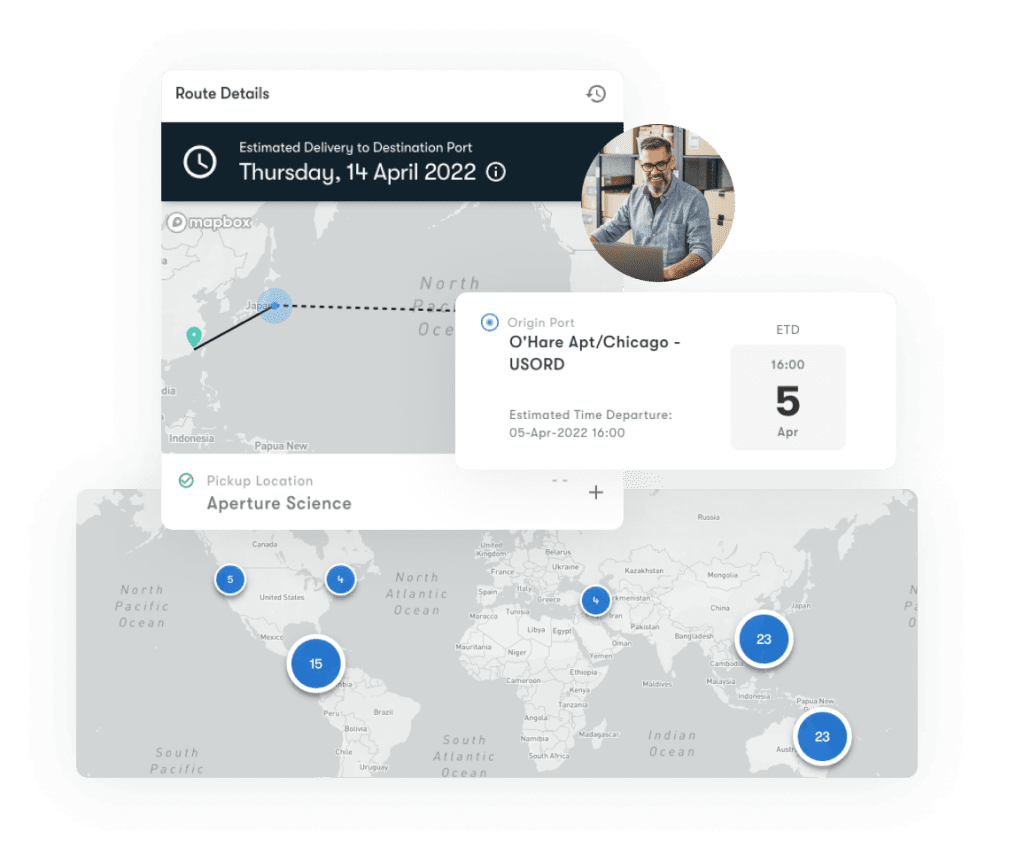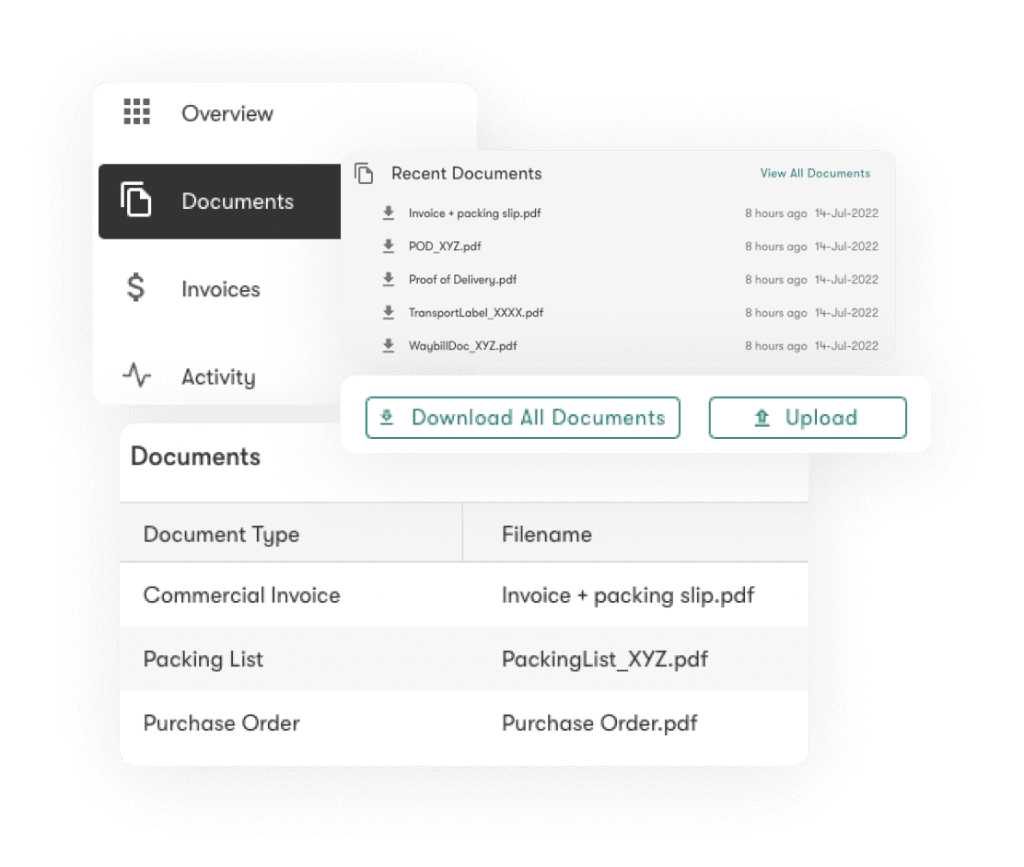 No more chasing documents
Customers can upload/download shipment documents. Documents sync with your TMS in real-time. Automatic notifications alert you and your customers anytime a new document is uploaded.

Customers save time by eliminating back and forth emails and phone calls, and reduce the risk of delays, customs holds and fees.

And your team won't have to spend time chasing down customs and other documents.
"Email is totally busted as a way to communicate key milestones and deadlines in global logistics."
Eric Johnson
Technology Editor, Journal of Commerce
Efficient, timely communication
Disorganized, decentralized communications, and Supply chain problems have your customers on edge. Freight forwarders with centralized communication channels find it easier to audit customer claims and maintain regulatory data for instant retrieval.

Real-time exceptions alerts, shipment notifications, and in-app messages keep you and your customer informed in real-time, eliminating back and forth emails and phone calls.
More organized accounting
Chasing invoices, back and forth email threads and self-performed audits create gaps in communication and questions surrounding accurate, up-to-date information.

Now you can give multiple customer representatives access to your customer portal where they can see all invoices and breakdowns of cost in one place.

Automatically syncs with your TMS to let customers quickly find outstanding invoices and see a full statement of their account in one place.
Beautiful analytics
and reports
In reaction to customer requests for reporting, you've created complex, time-consuming custom spreadsheet reports. Eliminate customer friction and decrease waiting times so your customer gets beautifully organized reports on demand.

Your customers save time with built-in reports and make better decisions to optimize their supply chain.

You get to eliminate compiling data, managing spreadsheets and manually creating QBRs.
Even more for you and your customers to love
Digital-first forwarders can take customers and win contracts away from you if you can't differentiate your business.

We won't let that happen. Not only do you get a turnkey, differentiated experience your customers will absolutely love, we also give you a full suite of sales, marketing, and training assets to personalize a journey that drives more new business.
"In three months, we fully implemented Logixboard, and not only did this help us retain our current customers, but we won an additional $50M worth of new revenue..."
Brandon Mueller
VP North America, RIM Logistics, Ltd.
Logixboard is not just another software company. We are a customer experience company and we practice what we preach. Customer experience is everything, so we put people and our customers first in everything we do. We'll be with you every step of the way, and then some.
Personalized Team and Customer Training
Dedicated Account Manager
Deep Understanding of Customer Usage
"You guys have given us something that's more than just off the shelf. It's given us what we need and some things that we didn't think we needed. And the customers are loving it."
Scott Thompson
General Manager, 360 Logistics
Usually when we work tech partners there are more things to do on my end. With Logixboard, I didn't need to do anything. It's awesome.
Chan Chum
IT Manager, Dedola Global Logistics
Turnkey integration
in as few as 10 days
We know that integrating logistics technology can be hard, messy and complicated. When so many freight forwarders have been burned by technology providers, it's easy to understand why integrating in 10 days seems like another empty promise.

We make it super easy. We've done so many integrations we've stopped counting, and our expert integration team does nearly all the work for you and your team. You can go as quick or as slow as you want. Whatever it is. We will be there for you.
How many users can I add to my company's Logixboard instance / license?
You can add as many users as you want or need for your organization.
Does Logixboard give customers visibility across all modes?
Which Descartes product does Logixboard integrate with?
Logixboard integrates with Descartes OneView.
How does Logixboard integrate with Cargowise?
Logixboard uses the eAdaptor to both fetch information from CW1 and write information back to CW1.
Schedule a 30-minute demo
See how Logixboard empowers freight forwarders globally to level up the digital experience for their customers. Call (888) 308-4270 for any immediate questions!