Tracking containers is difficult, and gathering tracking data in real-time can be a tedious, manual and inefficient process for freight forwarding operators.
Not anymore. 

Introducing Automated Container Tracking, or ACT as we like to call it.
ACT populates Logixboard automatically, and in real time, with critical container tracking data that most forwarders and brokers spend hundreds of hours manually collecting from carrier and port terminal websites.
With ACT you'll be able to automatically enrich the shipment data you already have…
…and fill in the gaps in container data where you need it, saving you time and helping your customers avoid costly customs holds and container fees.
Best of all, if you're already offering Logixboard to your customers, ACT can be turned on for your customers in 1-2 days!


If you're not already offering Logixboard, why not?
Logixboard seamlessly integrates with Cargowise and Descartes, and you can launch it to your customers in as little as 10 days. Schedule a live demo of Logixboard and ACT here.
Automated Data Feeds Directly From Port Terminals
With the arrival of ACT, you will have access to data coming from 63 port terminal websites across the U.S. and Canada.
Now you can give your customers critical terminal data in Logixboard, such as:
Real-time ETD and ETA updates
Terminal availability data, including Container Availability, Last Free Day, Terminal Name & FIRMS code, Holds, and Fees
Real-time container milestone updates: empty-out, full-in, vessel loaded, vessel discharged, etc.
Your shippers will have access to a more complete real-time picture of what's happening with their containers, helping them better plan and avoid costly customs fees and demurrage and detention charges.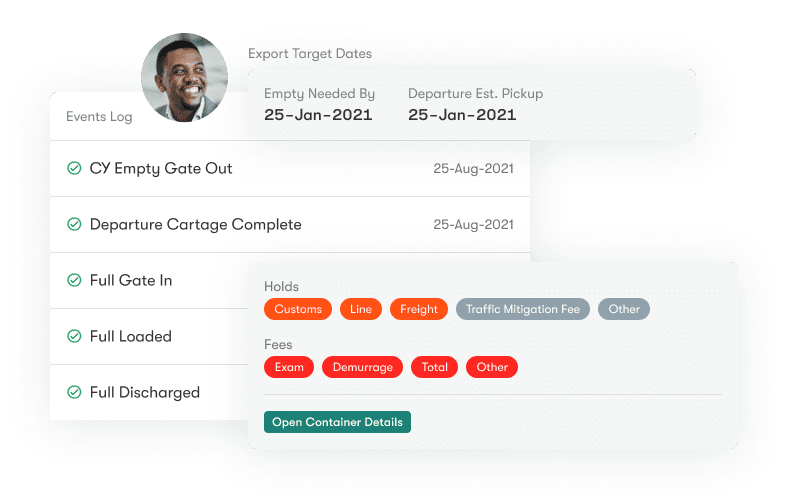 Live Container Data From Carriers At Your Fingertips
Your customers want frequent updates and up-to-date information when tracking containers. Data visibility gaps in your TMS leads to a poor experience for your customers at a very critical time.
Shippers and your internal operators spend so much time looking at carrier websites, trying to stay up-to-date and enriching shipment data through manual and tedious processes.
ACT solves this by connecting to the 25 top ocean carriers (97% of global traffic), keeping you and your customers updated in real-time.
ACT will provide:
Destination ETA/ATA, Vessel Loaded/Unloaded, Vessel Arrived/Departed, Transshipment Arrived/Departed, Empty Out, Empty returned, Full in/Full out, etc. 
Shipment Manifest Data such as Port of lading and unlading, shipping line details, final destination, vessel, voyage info, etc.
Give Your Customers A Better Experience…
When it comes to tracking shipments and containers, your shippers want an easy-to use-platform and a better digital customer experience.
Typically, shippers are not getting timely information on the status of containers at ocean terminals. This leads to delays in delivering goods to their final destination and avoidable added costs.
With Automated Container Tracking, your customers will have real-time visibility on container-level data, all in one place, your custom branded Logixboard platform. 
…And Win New Contracts
Click here to read a case study on how one of our customers was able to win over $2.3M in revenue in only 4 months thanks to our platform.
Our mission is to help you provide a world-class customer experience, so you can keep your customers happy and compete and win against larger, digital freight forwarders. 
The freight industry is extremely competitive and complex, so having a new easy-to-use feature other forwarders are missing can make a huge impact when closing deals or impressing existing clients.
When added to Logixboard's industry-leading customer experience platform that includes on-demand shipment visibility, invoice management, document management, reporting, and streamlined communications, all in one place, you'll be able to deliver an unrivaled experience to your shippers and stay ahead of your competition.