Relationships matter.
We're not your typical software company. We're a people company.
We are people first
We believe in creating long-term relationships. We put people first in everything we do, and we enjoy spending time with each other, our customers, and our partners.
We believe great CX wins
Digital customer experiences are the new battleground in freight forwarding. Forwarders that combine their logistics expertise with great people and great digital customer experiences will win.
We are customer obsessed
We are obsessed with building a world-class customer experience platform that helps forwarders increase sales, delight customers, and generate sustained business growth.
Logixboard was founded in 2016 by brothers Juan and Julian Alvarez. The idea for Logixboard surfaced while Juan was working at an international freight forwarder, and saw first hand the inefficiencies and manual processes that plagued the freight forwarding customer experience.

It was there that they solidified their belief that technology was the future of freight forwarding, and that the industry would be dominated by people-first businesses fueled and amplified by technology.

They moved to Seattle where they caught the attention of investors and high-level software engineering talent from companies like Amazon and Microsoft.

Soon after, they began to get traction in the market and attention from a worldwide audience.

Logixboard has now raised $50M in venture capital, employs over 100 people, and serves freight forwarders and customs brokers in 15 countries.
People first
We are a team that believes that people come first.
Propel customers forward
We are here to deliver long-term value for our customers.
Always be learning
We are driven by progress that only comes from action.
Be decisive
We trust one another to quickly make the call and we rally behind it.
Everyone's an entrepreneur
As owners of our destiny we let curiosity fuel our innovation.
FOUNDER & CEO
Julian Alvarez
Julian is passionate about helping freight forwarders around the globe scale their businesses and streamline operations. Though altruistic is his professional mission, poker-playing-Julian almost always sweeps the table - but always with a laugh and cheerful toast.
FOUNDER & VP OF CX
Juan Alvarez
Juan's experience in logistics sparked his fervent interest in the industry, as Juan wanted to create game changing technology to revolutionize the industry as a whole. In his free time Juan loves the outdoors, riding horses, cycling, and snowboarding.
CHIEF OF STAFF
Jaren Schwartz
Jaren came from Techstars as a Program Director and Investment Manager. She's spent many years supporting startups through various roles and had a decade-long career in international development. She once was attacked by thousands of bats, but lived to tell the story.
Originally from France, Eric earned a Doctorate in Philosophy and Computer Science, bringing a unique wealth of knowledge to Logixboard. His kind yet discerning leadership helped build our engineering and product teams from the ground up. Eric is an avid surfer, and saved a few floundering surfers swept by the rip tide while we were on a company trip to Mexico.
VP OF PEOPLE
Rachel Cougan
Rachel joined Logixboard as a People & recruiting leader with vast experience from multiple SaaS startups. Her passion for company culture brought her to Logixboard, loving that Logixboard puts People First at its core in making decisions, and isn't just a tagline on a website. Rachel's affinity for witty banter and sarcasm brings an energy of hilarity we are always looking for at Logixboard.
VP OF PRODUCT
Agasthya Upadhya
Agasthya was one of the first employees at Logixboard, jumping on our rocketship with experience ranging from small startups to well-established powerhouses like Microsoft. Agasthya is an aspiring carpenter with a never-ending list of projects, however his dog Bowser harbors valid concerns, particularly regarding Agasthya's use of the bandsaw.
SVP OF REVENUE
Jimmy Speyer
Jimmy is a valued member of the leadership team, bringing trademark energy to the sales organization and leading by positive example. Importantly, he was the champion of his camp team when he once ate 23 grilled cheese sandwiches in one sitting.
Andy is an entrepreneurial finance executive with 20+ years of experience managing the finance and administrative functions for public and private companies across multiple industries. When he isn't telling us to stop spending money, Andy is always the first one at company events, on dance floors, and has become a bit of an icon around here with his trademark cheers.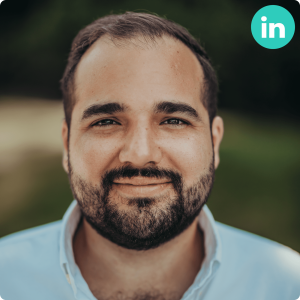 World-class financial backing
We've raised $50M in venture capital funding from some of the best and brightest investors in the world, which provides us the fuel to build the absolute best possible product and services for our customers.
Interested in joining our team? We are a diverse, inclusive group that moves fast and has ambitious goals. Check out our open positions. We'd love to talk to you!
Learn more about what we're up to at Logixboard.